2. Carrots + Tahini
Carrots are considered to be an incredibly healthy food – they contain about 10% carbs, consisting of starch, fiber, and simple sugars and they rank low on the glycemic index scale. In addition, they are an excellent source of vitamin A in the form of beta-carotene and a good source of several B-vitamins, vitamin K, and potassium. When you consume carrots as part of a main meal, they will help increase satiety and decrease your overall calorie intake.
Tahini, which is also known as sesame butter, provides a wide variety of vitamins and minerals. It is also a great plant-based source of protein, which makes it a nutritious option for vegans and vegetarians. The fiber in tahini is proven to reduce your calorie intake, which promotes weight loss. Furthermore, sesame seeds are proven to have anti-inflammatory properties and promote a healthy gut.
3. Spinach + Apple + Ginger
Spinach is low in carbs, but high in insoluble fiber – this type of fiber has a lot of benefits for digestion, it contains high amounts of carotenoids, vitamin C, vitamin K, folic acid, iron, and calcium, and it reduces oxidative stress. In addition, spinach has high amounts of nitrates which aids in the regulation of blood pressure.
Apples consist of 85% water, they're low in energy density and low in calories, and all of these properties have been proven to aid in weight loss. They are rich in fiber, which helps promote fullness and appetite reduction and therefore, weight control. Furthermore, apples have several healthy characteristics that work together to benefit blood sugar control, heart health, cancer risk, and brain function.
Ginger is high in gingerol, a nutritional substance with very powerful anti-inflammatory and antioxidant properties. Ginger appears to speed up the emptying of the stomach, which can be beneficial for people with indigestion and similar stomach discomforts.
4. Figs + Brazil Nuts
Figs are low in calories and have no fat which makes them a perfect replacement for an unhealthy snack. They are rich in fiber, which helps fight constipation and keeps you feeling full for a longer time. In addition, they are rich in antioxidants which are thought to reduce cell-damaging free radicals in our body.
Brazil nuts are rich in fiber, which helps lower your cholesterol. They're also a good source of an antioxidant called selenium which supports immune function and boosts metabolism. Frequent consumption can actually assist in weight loss since they make you feel full and that can result in a lower intake of less healthy snacks.
5. Pineapple + Lime Juice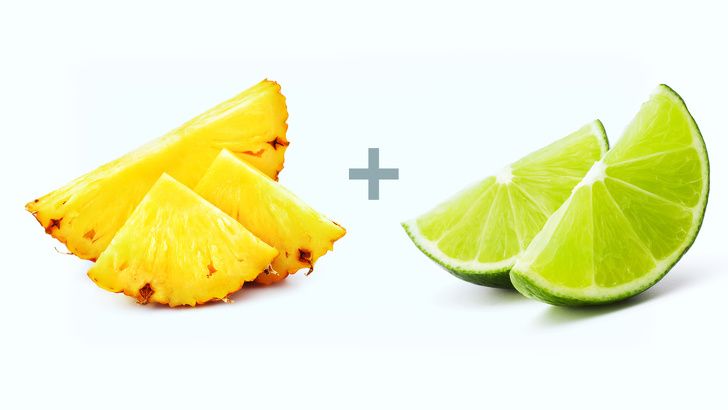 Pineapple is low in calories and has a high water content which makes it an ideal healthy weight loss snack. In addition, pineapple is rich in fiber which promotes the passage of food through the digestive system at a normal rate and stimulates the release of gastric and digestive juices to help food dissolve.
Lime has a variety of essential nutrients that help reduce both body weight and food consumption. Due to the fact that it contains citric acid, it helps in burning body fat faster and more efficiently than other foods. The flavonoids in lime stimulate the digestive system and increase the secretion of digestive juices.