It's better to stay away from processed sugar if you're trying to stick to a healthy diet, but sometimes it's impossible not to fall into the temptation. The crucial mistake we make is when we eat sweets as a snack. This way your blood sugar levels go up, causing sugar spikes and crashes, leaving you tired and nervous.
If you can't resist the temptation, treat yourself with some dessert right after the main meal. This way your blood sugar levels won't rise so dramatically.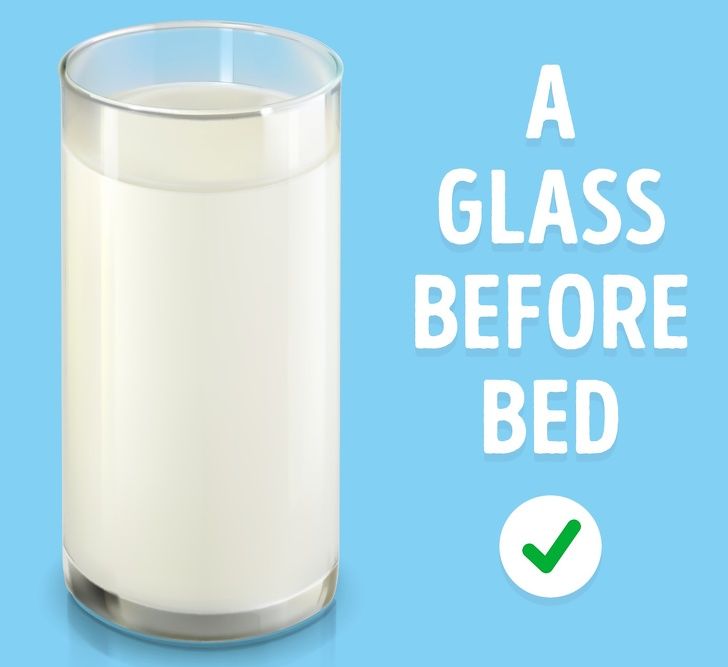 Some people have gotten used to starting their day with a glass of milk since childhood, but this habit doesn't work well for adults. Milk is difficult to digest, so drinking it in the morning and combining it with other foods can cause heartburn and stomach aches.
The evening is the best time to have a glass of warm milk. It helps calm down the body and promotes a good night's sleep.
Meat is a great source of protein and B vitamins, but it may put an excessive load on the digestive system. That's why it's better to avoid eating steak right before going to bed. Choosing lean meat and eating at least 3 hours before bed is actually a good option since it provides satiety and doesn't contain an excessive amount of calories that could cause weight gain.
You can eat meat throughout the day to get enough protein. But be careful with eating it in the morning, since having a heavy meal like this may be too difficult for your body to digest.
Nuts are a great source of healthy fats and calories, but having them as a nighttime snack isn't the best option. It's actually healthy to eat some, but if you have too much, they can take a long time to digest causing problems with falling asleep.
Choose nuts for breakfast or as a healthy snack between your meals to get all the benefits: to promote heart health, normalize cholesterol levels, and to contribute to weight loss and the beauty of your skin and hair.